University Terrace Elementary School
575 West Roosevelt Street, , Baton Rouge, LA 70802
225-387-2328
Performance Score:
What does this mean?
School Performance Scores provide families with important information about how a school is preparing students. Learn More.
State Score: 29
Visit School Website
Type of School
Elementary School
Principal
Veronica Sanders
Welcome Message
University Terrace provides an inclusive, caring and rigorous learning environment that engages our students and challenges them to grow academically, socially, emotionally, physically and creatively to their full potential. Students are encouraged to develop a social conscience which enables them to contribute to their family, school and the wider community. University Terrace is dedicated to building upon its strong community relationships, positive student achievements and seeking out new innovation to further support the thinking skills and creativity of our learning community. In partnership with the community, we provide our students with the means and motivation to excel and lead us into an exciting future.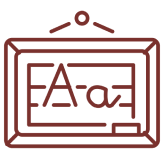 18
English
Language
Arts
8
Math
7
Science
School Diversity
94.3%

Economically Disadvantaged Students