The Dufrocq School
330 S. 19th Street, Baton Rouge, LA 70806
225-334-7653
Performance Score:
What does this mean?
School Performance Scores provide families with important information about how a school is preparing students. Learn More.
State Score: 29
Visit School Website
Type of School
Elementary School
Welcome Message
The Dufrocq School's mission is to provide an academically challenging curriculum that nurtures a genuine love for learning and encourages individual ingenuity. Our goal is to cultivate minds, develop character and prepare our students to succeed in the real world around them. The Dufrocq School is proud to offer the Montessori philosophy of learning where students learn through hands-on experience, investigation, and research. Students tend to become absorbed in their work, which creates an incredibly peaceful atmosphere. Our Montessori students develop self-discipline, an internal sense of purpose and motivation to excel.The classroom atmosphere focuses on respect and appreciation for individual strengths. Montessori teachers direct the students as they develop into inquisitive, independent learners who desire to learn and have a strong sense of community responsibility. The Dufrocq School is also a MicroSociety® community, a mini-society created within the school reflecting components of a real society.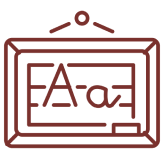 41
English
Language
Arts
25
Math
24
Science
School Diversity
68.1%

Economically Disadvantaged Students