Sharon Hills Elementary School
6450 Guynell Drive, Baton Rouge, LA 70811
225-355-6522
Performance Score:
What does this mean?
School Performance Scores provide families with important information about how a school is preparing students. Learn More.
State Score: 29
Visit School Website
Type of School
Elementary School
Welcome Message
Sharon Hills Elementary School enrolls approximately 320 students ranging from pre-K to grade 5. In addition to the core subjects (reading, ELA, math, science and social studies), students participate in weekly ancillary classes (physical education, library, computer and guidance). Special education classes include the following services: resources, self-contained, autism and speech.  Supplemental instructional programs are SuccessMaker (math), LEAP Remediation (grade 4 only), EAGLE, and all reading and math initiatives offered by the EBRP school system. All teachers at Sharon Hills Elementary School are certified. Teacher experience ranges from one to 30 years. Teachers receive continuous professional development in efforts to enhance the delivery of instruction.  We work very hard to maintain a family environment.  We constantly encourage students to do their very best at all times. Parental involvement is a very strong indicator of success.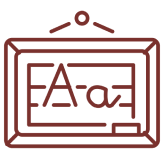 9
English
Language
Arts
7
Math
<5
Science
School Diversity
96.1%

Economically Disadvantaged Students