Mckinley Middle Academic Magnet School Of Visual And Performing Arts
1550 Eddie Robinson Drive, Baton Rouge, LA 70802
225-388-0089
Performance Score:
What does this mean?
School Performance Scores provide families with important information about how a school is preparing students. Learn More.
State Score: 29
Visit School Website
Type of School
Middle School
Welcome Message
McKinley Middle Academic Magnet is a high-performing, A-rated, dedicated academic magnet school with a focus on visual and performing arts. McKinley has been recognized as a National Blue Ribbon School and has received the titles of Magnet School of Excellence and Magnet School of Distinction from Magnet Schools of America. At McKinley, we are proud to offer students unique learning opportunities through advanced academics as well as arts integration across the curriculum. Our amazing faculty and staff is passionate about our school and devoted to our students. McKinley provides a truly one-of-a-kind middle school experience while preparing students for high school and beyond.   
At This School
Performing Arts, Visual Arts, Junior Beta
Football, Soccer, Volleyball, Swim, Cheer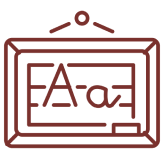 69
English
Language
Arts
30
Math
43
Science
School Diversity
63.6%

Economically Disadvantaged Students