Glasgow Middle School
1676 Glasgow Avenue, Baton Rouge, LA 70808
225-925-2942
Performance Score:
What does this mean?
School Performance Scores provide families with important information about how a school is preparing students. Learn More.
State Score: 29
Visit School Website
Type of School
Middle School
Welcome Message
In addition to our Traditional Program, Glasgow offers
three options for students who may need an extra academic challenge: the Gifted Program, the Scholastic Academy Program, and the Great Scholars Academy Program. These provide students with opportunities to explore their passions and interests in an academic environment that promotes creativity and encourages intellectual curiosity. Students may take high school credit courses such as Algebra I, Geometry, Algebra II, Advanced Math, Physical Science, Earth Science, French I/II, Spanish I/II and Latin I/II. Other exciting electives include Band, Choir, Orchestra, Robotics, Horticulture, Introduction to Coding, Anatomy and Physiology, Drama and Musical Theatre. Students may also participate in our Talented Theatre, Talented Visual Art and Talented Music Programs. Classes in these disciplines are designed to provide experiences that enable talented students to further develop demonstrated skills, increase discipline knowledge, and grow as artists.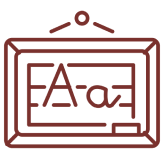 40
English
Language
Arts
28
Math
34
Science
School Diversity
71%

Economically Disadvantaged Students